SILVERHEEL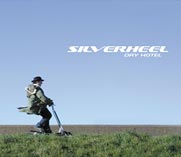 A short history of Silverheel, in which the band's Tim Cronin also offers candid insights into the brand new album's songs.
The genesis of Silverheel begins in the early 90's when Tim Cronin was offered what turned out to be a dodgy production deal. The net result of this encounter was meeting and recording with Bernie Clarke (Aztec Camera, Edwin Collins) After this session Bernie suggested that Tim leave the band and move to London to begin work in earnest. As a solo acoustic act Tim played extensively around the then burgeoning acoustic scene. As his song writing developed so did interest from the industry. However it wasn't until Tim assembled the band Silverheel that his music got signed up in 1995. The band consisted of Larry Newman, an exceptional guitar player who mixes West Coast influences with Nashville, Martin Scarborough, drummer and life long friend of Tim's and finally Colin Baldry, whose bass playing has graced many established artists recordings including Tom Robinson's. Tim, Colin and Martin all hail from Melton Mowbray and Larry from the Isle of Sheppy. The band was a regular sight around the pubs and clubs of South East London.
Silverheel were signed to Acid Jazz Records and were amongst the first artists to appear on it's Focus label. The album '9000 Sunsets/Seven Days' was released and met with critical acclaim. Pre-dating the return of melody and harmony to British rock the album celebrated psychedelic substances, tape phasing and good strong song writing. The single 'Opportunity Hill' was released and received good airplay. Eddie Piller (Acid Jazz MD) so liked the song he wrote a screen play based upon the lyric and is to this day hoping to find a backer to make the film. However, dogged by a label unable to market the album, sales were poor. A second album was recorded entitled 'Naked Cosmic Man' an even stronger collection of tunes but this has never seen the light of day. Tired and exhausted Tim retreated away from music and let the band fade away.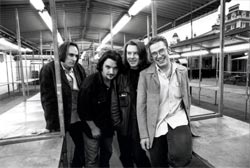 Tim re-emerged playing in a loose dance collective called 'Retro-actif' gigging in clubs such as Fabric and Cargo. The other members continued to work, Colin developing a very successful career in TV music, Martin became a primary school teacher and Larry became Head of Music at Lewisham College. However it quickly became obvious that the ghost of Silverheel was too powerful to be laid to rest. Despite himself Tim had been constantly writing and recording in his home studio 'The Low Rent Housing Project'. Colin gently persuaded Tim that the time was right to record again as Silverheel and suggested he produce the album in his own studio. The idea was to continue with documenting our lives regardless of what response the industry gave the band. To mark a particular moment in time, friends would help distribute the album.
Originally entitled 'The Gospel According To Don Quixote' the songs charted Tim's dramatic walking out on one period of his life into the next armed only with 50 pence and a copy of Cervantes famous work. It was apparent that in spite of everything, something special was happening and so it was decided that the early results be sent to trusted industry contacts. David Rome at Survival Records had from the beginning been in touch with Tim's work and immediately recognised the strength in this new body of work. Since 1995 the band have been in the real world, marriages and children have been created. Friendships within the band have at time become strained and on occasion fists have been raised. However the music remains at the heart of what Silverheel are about. We hope that the music burns slow and true with the integrity that went into its creation.
THE SONGS
Suntan Smiling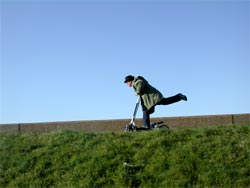 About celebrity and our obsession with it. The two main players now live in Spain. 'They've got no reason to be dying.'
Download sound sample of this track.
Fly On The Ground
Tim has taught music to children locked up. This song came out of that experience. Our society appears to crush energy in an attempt to control it.
Download sound sample of this track.
Dry Hotel
Many people spend most of their lives having to do jobs they hate. Alcohol helps them through but also kills them in the end. 'Be the first upon your street, to start the day feeling complete'
The Dream Is Bigger Than The Plan
'The plan demands the band to carry on…..'
Gabriel's Laughter
My son's middle name is 'Gabriel' Father's should take the phone off the hook and stay at home every now and then….
Girl Inside
Someone else's girlfriend, a birth mark hidden by make up, premature ejaculation and tattoo…..fill in the gaps
English Rain
The missing link with 'Naked Cosmic Man' Two old men overheard talking about Europe….
Download sound sample of this track.
Horny As Porno
Dirty sex, carefree sex, loving sex. The chemicals in the brain keep wanting more..
Doesn't Matter
After a while everywhere starts to look much like another, relax and enjoy it….
Jesus Slept With No Woman
….music doesn't figure in the bible.
Gagarin Coming Down
Left a life, walked into another, it worked out.
Download sound sample of this track.
God's Great Highway
Some people just seem destined to crash and burn. Some religion has it that suicide is perhaps the greatest sin but…..?

Or why not buy the album here