We have discovered in our archives a limited number of CDs of the soundtrack album for the film "Rob Roy" starring Liam Neeson and Jessica Lange.
The musical score is by Carter Burwell who has worked on many major Hollywood films, with additional music by Capercaillie. Other featured musicians on the album are:
Davy Spillane Uillean pipes and low whistles
Maire Breatnach Fiddle
Tommy Hayes Bodhran
Ronan Brown Penny Whistle
Miriam Stockley Voice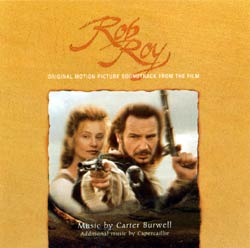 As anyone who has seen the film (and it is a great movie) will know, the music is a wonderful blend of a big orchestral score and rootsy Celtic instruments with Karen's voice featured on four of the tracks. It is a sound that I feel any fan of Capercaillie will enjoy.

The albums may have a sticker saying "Promotional Copy - not for Sale" which may or may not make them more desirable. Please e-mail us if you do not want the stickered copy.

We are keeping the price of the album the same as all the other albums by the band, ie £10, plus a packaging charge, (£2 UK, £2.50 Europe and £3 ROW) which is only charged once, however many items you buy.